Active Future Programme – Week 1 – fun games, the food pyramid and understanding behaviour
Posted October 14, 2016
Extract from shaneodonnellblog
Last week's blog mentioned the importance of self-doubt – something I should have revisited in the hours leading up to the start of week 1. I couldn't stop my mind from racing and wondering if things would run smoothly, if everything was prepared, if the participants would like the food or if anyone would even turn up? To my delight, the first week went off without a hitch and, judging by the feedback from everyone involved, it was a huge success! Fifteen participants engaged with the programme in the first week and an equal number of Sports Science students were there to facilitate the various inputs.
Physical Health Input
The third year Sports Science students of I.T. Carlow delivered an excellent and very comprehensive presentation on the food pyramid and the Eatwell Guide. The Eatwell guide is a visual representation of how different food groups contribute to a healthy balanced lifestyle. There were some really interesting discussions between the students and the participants on their eating habits and how low or high consumption of certain food groups may affect their energy levels and recovery times after intense activity.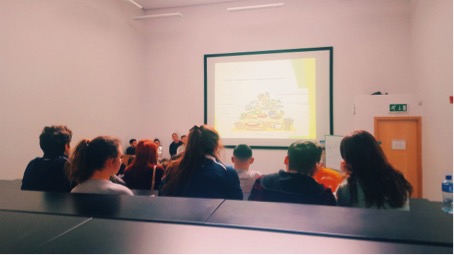 Physical Activity Input
The physical activity aspect of the programme has the overall focus of promoting alternatives ways of being active outside of structured sports. This week Danni led an excellent session on fun-orientated games. Both the Sports Science students and participants were involved in the session, which started off with some fun warm up games and finished with some relay races.
We incorporated what we had learned on the food pyramid into our physical activity session to test what had been learned! Participants passed with flying colours as they raced against each other carrying bean bags that represented various food groups and placed them in their correct position in a food pyramid at the end of the room.
Mental Health Input
A superb session on understanding behaviour was delivered by Michael Byrne, exploring the different types of human behaviour. The four types of human behaviour are thoughts, actions, body feelings and emotions. For example, if we wake up with a headache (a body feeling) we might think (thought) that we are sick. We might feel upset (emotion) that we are sick and go to the doctor (action). The behaviours over which we have the most control are our actions and thoughts and Michael guided the participants through how best to control these behaviours.
Read Shane's full post in here and follow the development of his Active Future Programme every Friday on the NowWeMOVE blog and YOTM website.