Active Future Programme – Week 8 – The Graduation
Posted December 12, 2016
Extract from shaneodonnellblog
Last week I was in Sao Paulo, Brazil at Seminario Internacional MOVE Brasil, presenting the Active Future Programme to those in attendance. The conference was an amazing opportunity to meet some Latin American Youth on the MOVE participants and share ideas on how to continue to grow the MOVEment. To talk with and see how these young minds are using innovative techniques and programmes to tackle various cultural and social issues was a true inspiration. It has been such a privilege to share a room with these people and now call them a friend. The community of Youth on the MOVE participants is only growing stronger and stronger and I feel that this network of young minds can really make an impact in the world of promoting physical activity.
Sadly, Week 8 was the final week of the Active Future Programme but we had a great send off to both the students and participants with a small graduation ceremony for those involved.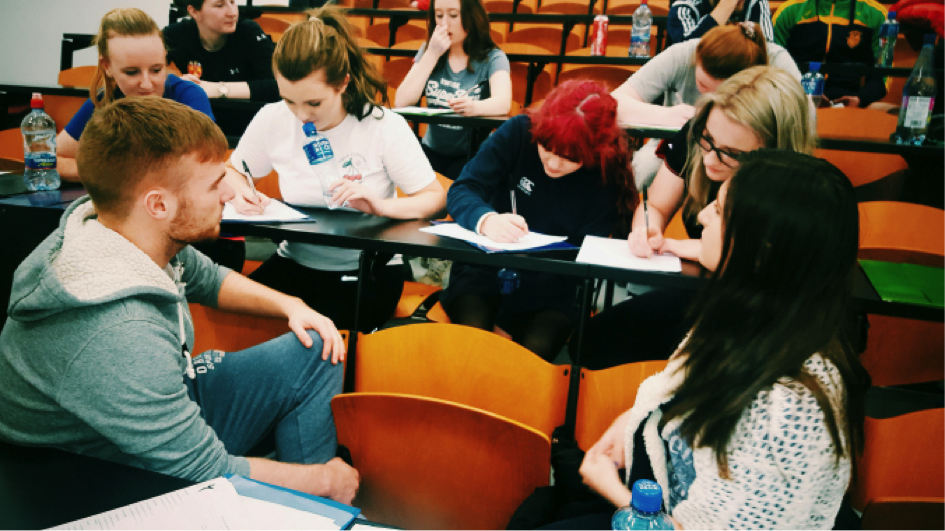 Physical Activity Input
The physical activity input was a lot shorter than previous weeks as we needed to allow more time for our Future Me Plan and graduation ceremony. With this in mind we had a short game of football rounders. This is similar to the style of baseball which involves rounding the various posts to score points. The difference here is the ball is rolled and kicked instead of being thrown and batted. This was a really nice way to finish off our physically activity sessions as there was a lot of fun and enjoyment had by all. From the beginning of the programme I felt it was important to promote ways of becoming physically active outside the typical sports played in Ireland (GAA football/hutling, soccer, and rugby). Many people find it difficult to become physically active when you are not interested in sports. Furthermore, with the rising price of gyms and leisure centres, it can become very difficult to find fun ways of being physically activity. That is why our physically activity sessions had a focus on education and fun – showing ways to be active that are fun, and giving them the tools to design their own sessions.
Pop Quiz and Future Me Plan
We gave our participants a pop quiz on all of the topics we covered in our physical activity and physical and mental health inputs. However, the aim of this was not to grade the participants on how well they did but to use it as a form of reflective practice. We had each participant paired up with one Sports Science student to reflect on what they had learned and done throughout the programme. We encouraged our students to aid and question the participants on their answers in the hope that it might elicit discussions around how they might implement these learnings in their everyday life. Following this, we had our participants fill out their Future Me Plan which involved writing down 5 things they would like to change about their health. With the use of our step plan that we learned about last week, the participants then filled in the 6 steps they would use to achieve these goals.
Graduation
Finally we had the Head of the Department of Science and Health, Paula Rankin, give out certificates to acknowledge the wonderful contribution of everyone involved in the Active Future Programme. This was followed by some pizza and a small party amongst all those involved.
I would like to take this opportunity to thank everyone who was involved in the development and implementation of the programme and most of all, the participants of the programme. Without any of these people, the programme would not have been possible. It was an absolute honour to work with everyone involved and I can't thank everyone enough for their contribution. However, this is not the end of the Active Future Programme. Our next steps will be to ensure that this programme runs for a second year. Therefore, in the next few months we will be busy evaluating the whole process to prove that it was effective and worthwhile. Our goal is to bring back our participants from this year as mentors for year 2 and aid with the new Sports Science students in delivering year 2. Finally, we hope to start rolling this programme out to other campuses across the country, so stay tuned to see the growth of the Active Future Programme!
Shane O'Donnell completed in the Youth on the MOVE training for young MOVE Agents in Europe and Latin America in June. He is now leading the Active Future Programme in Ireland with the experience he gained from the course. Find out more about Youth on the MOVE, supported by the European Union under the Erasmus+ programme.