The challenge of moving people is international
Posted December 12, 2016
By Monika Resetar, ISCA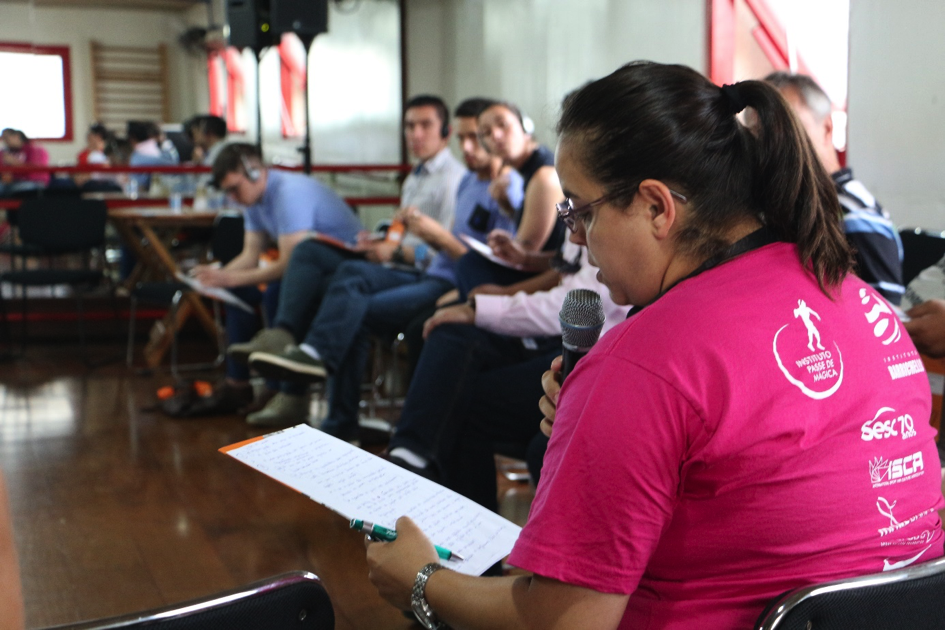 The Move Brasil International Seminar The challenge of moving people, held in Sao Paulo in Brasil from 7–12 December was a great success that gathered more than 200 participants from 13 countries (Argentina, Brazil, Colombia, Denmark, Ireland, Malta, Peru, Poland, Portugal, Slovenia, Spain, Uruguay and USA) to discuss the status of sport and physical activity in Latin America.
The venue itself, SESC Pompeia, offered a great example and inspiration of how an old factory building can be turned into a facility for citizens to meet and play by offering various sports, cultural, creative and other free time activities. The conference held two round table discussions, six interactive workshops and shared six case experiences.
Together with the seminar, the dissemination meeting of ISCA's Youth on the MOVE project took place. Young participants from Europe (Malta and Ireland) and Latin America (Brazil, Colombia, Peru) had chance to finally meet each other, share experiences of making/executing their own projects, discuss challenges they faced and think together about the future steps of moving people in their local communities. The representatives of the organisations from Brazil, Argentina, Colombia, Peru and Uruguay met to discuss the future of the programme as there is a need and great wish to continue with it in coming years.
Charlene Attard from Malta presented her two projects she initiated with help of Youth on the MOVE and meeting with peers doing same things as she is doing, inspired her even more.
"Youth on the MOVE means new opportunities to grow. The programme helped me to prepare myself when it comes to decision making and organisational development. It was a very fruitful experience where I learned how theory can change into practice. When meeting other European and Latin American youth, I got ideas and modified them to the situation in my country. All theoretical aspects we learned during the five months of the online training came in very useful when starting creating my project. Thanks to ISCA and the Youth on the MOVE team for this great opportunity. It was an honour for me to present my project and my country in Brazil at the seminar. Thanks for giving to us, youth, the knowledge to be used in all aspects of life and to help us to grow."
The realities in Europe and Latin America are different when it comes to opportunities for young people. While being part of various short or long term youth exchange programmes, being able to travel abroad and meet people from other countries and cultures is relatively easy and affordable in Europe, there are not so many opportunities in Latin America. For Ana De Sa from Brazil and most of the Latin American participants, being part of the project and travelling to São Paulo was a dream come true.
"Promoting sport has always been important in my life and I feel honoured to be part of Youth on the MOVE. It was incredible experience. A unique opportunity to meet people, understand their cultures and with the knowledge of the full group helped us to make our dreams come true. Thank you all!"
Despite unique realities and challenges on both continents, according to ISCA's President Mogens Kirkeby the main challenge of getting more people physically active is international and appears everywhere. So how can we all tackle that?
"In ISCA we are convinced that the fastest way to find solutions and to improve physical activity lies within international cooperation and projects such as Youth on the MOVE. The solutions are to be found within an open and systematic exchange of knowledge and practical experiences from across the world."
The key to success lies in cooperation between participants like Ana and Charlene and sport organisations which can help enthusiastic youngsters to realise their ideas and make an impact. It starts with small project or initiative in local community or group of friends, classmates, peers and easily grows bigger nationally or, like MOVE Week or Semana MOVE, internationally. And everyone can contribute, even YOU. How? Well, if you're already an active person, start with small steps, like activating inactive around you. Invite family members or senior neighbours for a walk, gather friends and organise a sport activity outside.
For more inspiration check out the NowWeMOVE blog